Vocational Qualification in Social and Health Care
The basic vocational qualification in social and health care provides the skills necessary to carry out meaningful work as a practical nurse with and for patients and clients. Would you like to participate in providing the vital care, education and rehabilitation to those in need? Are you interested in supporting and guiding people of all ages in different life situations?
Practical nurse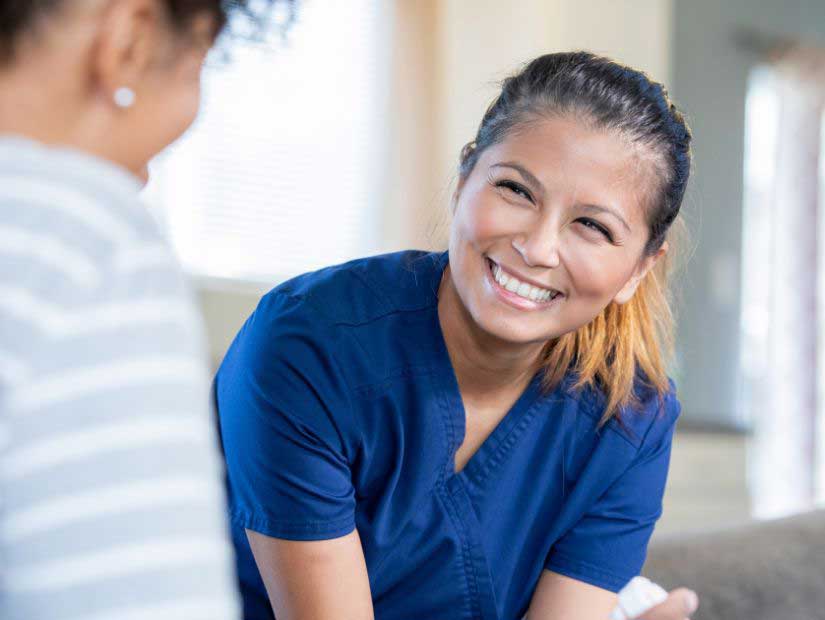 Within the care work, you will encounter people of different backgrounds and ages that are in need of help, care and support. As a practical nurse, you will enhance clients' health, wellbeing, functional capacity, growth, and social participation. You can work in a variety of working environments, such as day-care facilities, child welfare, care services for the elderly, group homes for the disabled, inpatient wards, at clients' or patients' homes or within mental health and substance rehabilitation units.
Care assistant
The training for care assistants comprises two of the qualification units included in the vocational qualification in social and health care. This means that if you at some point wish to continue your studies and become a practical nurse, you will have already completed two of the mandatory units for the practical nurse qualification. Care assistants perform supportive tasks to facilitate the care services provided to the elderly. Care assistants work, for example, in different types of service homes or housing units, and the work is carried out together with practical nurses and registered nurses.
Vocational qualification in social and health care
Composition of the qualification
The vocational qualification in social and health care is composed of vocational units (145 competence points) and common units (35 competence points).
Two mandatory units of the qualification are:
Promoting growth and participation – 25 competence points
Promoting wellbeing and functional capacity – 30 competence points
Competence areas offered by STEP Education:
Competence area of care and rehabilitation for elderly people
Competence area of children's and youth education and care
Competence area of mental health and substance abuse work
Competence area of nursing and care
Competence area of care for the disabled
The vocational units also include optional courses worth 15 competence points.
The 35 competence points in common units include:
Communication and interaction competence
Skills in mathematics and natural sciences
Citizenship and working life competence
The studies alternate between theoretical learning, on-the-job learning and working together. Group discussions and the planning of different types of events are also included in the studies.
Read more on completing the qualification from this link in Finnish.
Application process
There is a rolling admission procedure (link to Finnish page) for this qualification programme. Check out the information concerning our upcoming programmes (link to Finnish page).
The joint application system every spring is for those who have completed comprehensive school, upper secondary school and anyone who has not already earned a vocational qualification. The academic year for those selected through this system begins in August. The date of the joint application round in the spring is different each year; more information can be found on the Studyinfo.fi site.
Applicants will be invited to take part in a selection day that is free of charge.
Apply by Finest Future Program
Costs
The qualification programme is free of charge for students.
Higher education
A vocational qualification confers a general eligibility for higher education studies in universities and universities of applied sciences.
Student dormitory
Our campuses have their own student dormitories. The rooms are generally two-person rooms and they are primarily intended to house those students who live far away or for whom commuting is difficult. More information about the housing (in Finnish)
Ask for more information
Järvenpää
Väisänen, Marko, Guidance Counsellor
marko.vaisanen@step.fi
tel. +358 40 511 9963
Tassi, Riikka, Guidance Counsellor
riikka.tassi@step.fi
tel. +358 44 906 3233
Pieksämäki
Hynninen, Tiina, Guidance Counsellor
tiina.hynninen@step.fi
tel. +358 40 193 4893
Ask for more information about apprenticeship training
Järvenpää
Seppälä, Leena, Apprenticeship Coordinator
leena.seppala@step.fi
tel. +358 44 358 9038
Pieksämäki
Pettinen, Heli, Apprenticeship Coordinator
heli.pettinen@step.fi
tel. +358 40 665 8222