Vocational qualification in cleaning and property services
Vocational qualification in cleaning and property services, competence area of site facilities operation, occupational title of site facilities operator
The education in cleaning and property services is intended for those who are interested in and suitable for working as a site facilities operator. This practical education is primarily carried out at cleaning service workplaces. You can also complete the qualification while working under an apprenticeship contract. The industry suffers from a labour shortage and new, qualified employees are needed.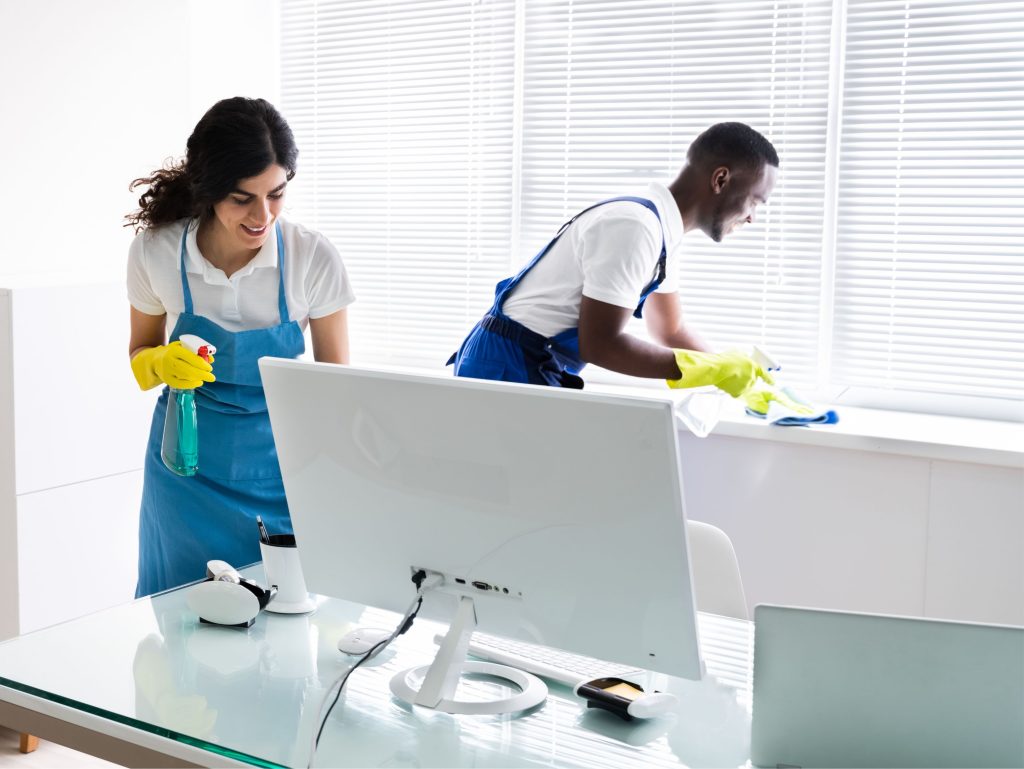 A site facilities operator handles site facilities operation assignments and customer service situations at customer sites in accordance with the service contract. They have the ability to plan and implement cleaning services in various customer sites, which include residential buildings, hotels and accommodation facilities, shopping centres and shops, customers' homes, vehicles, educational institutions and day-care centres, social service institutions, health care institutions, industrial institutions, health care facilities and swimming pools and spa facilities.
Contents of the education:
Compulsory unit of the qualification: provision of customer-oriented cleaning and property services (15 competence points)
Two units of site facilities competence as part of the qualification:

maintenance cleaning services, 30 competence points
basic cleaning services, 30 competence points

Optional units of the qualification, 70 competence points. These include, for example, provision of cleaning services at different customer sites and provision of home food services.
Common units included in the qualification, 35 competence points.

Communications and interaction competence
Mathematics and natural science competence
Social and working life competence
The studies also include:
cards and licenses required at work
if necessary, Finnish as a second language, vocational vocabulary
establishment of a career plan.
Duration and extent of the studies
The duration of the studies varies individually and is approximately 2–3 years, during which you will complete the 180 competence points required for the vocational qualification in cleaning and property services.
Many ways to study
The education consists of contact instruction, independent working and working in a team as well as on-the-job learning. In the beginning of the studies, a personal competence development plan (PCDP) will be drawn up for each student.
Completion of qualification
The competence acquired for the vocational qualification is shown through competence demonstrations. The competence demonstrations are arranged at workplaces. A teacher and workplace representative evaluate the competence of the student together. Once you have completed the vocational qualification, you will be eligible for further studies in a university of applied sciences or academic university.
There is a rolling admission procedure (link to Finnish page) for this qualification programme. Check out the information concerning our upcoming programmes (link to Finnish page).
The joint application system every spring is for those who have completed comprehensive school, upper secondary school and anyone who has not already earned a vocational qualification. The academic year for those selected through this system begins in August. The date of the joint application round in the spring is different each year; more information can be found on the Studyinfo.fi site.
Applicants will be invited to take part in a selection day that is free of charge.
Apply by Finest Future Program
Costs
The qualification programme is free for the student.
Higher education
A vocational qualification confers a general eligibility for higher education studies in universities and universities of applied sciences.
Student dormitory
Our campuses have their own student dormitories. The rooms are generally two-person rooms and they are primarily intended to house those students who live far away or for whom commuting is difficult. More information about the housing (in Finnish)
Ask for more information
Järvenpää
Väisänen, Marko, Guidance Counsellor
marko.vaisanen@step.fi
tel. +358 40 511 9963
Tassi, Riikka, Guidance Counsellor
riikka.tassi@step.fi
tel. +358 44 906 3233
Pieksämäki
Hynninen, Tiina, Guidance Counsellor
tiina.hynninen@step.fi
tel. +358 40 193 4893
Ask for more information about apprenticeship training
Järvenpää
Seppälä, Leena, Apprenticeship Coordinator
leena.seppala@step.fi
tel. +358 44 358 9038
Pieksämäki
Pettinen, Heli, Apprenticeship Coordinator
heli.pettinen@step.fi
tel. +358 40 665 8222